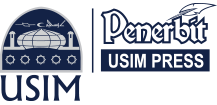 The motif of the USIM Press corporate logo was taken in conjunction with the USIM corporate logo through a dome along with five stars or "Arabes".
The 'Publisher' writing is formed by writing using a calligraphy pen showing the mission of USIM Press which is to be an excellent publisher
in the twinning of aqli and naqli sciences.
The feather pen symbol symbolizes the objective of USIM Press, which is to uphold the excellence of knowledge in the form of book publishing.
The vertical line explains that USIM and USIM Press support each other in the publication of scholarly works.
There are three colors in this logo namely; blue, white, and gray. Blue symbolizes the USIM Press to be the basis of belief and reference for the publication of a reading material. The color white symbolizes that USIM Press always practice a clean and careful work culture. The gray color symbolizes the readiness of USIM Press in the field of publishing.
Overall, this logo shows USIM Press as an Islamic publishing institution that brings together Islamic principles in imparting knowledge to its readers.
Only two (2) options of the logo are allowed to be used. Other than this it is strictly prohibited. To download the logo, click here.